It's the end of the year.  Take a few minutes to look at all the art you created in 2022.  Celebrate your accomplishments!
Share your favorite 2022 paintings.
Include the topic hashtag in your Watercolor – Beginners and Beyond Facebook group post: #2022Favorites
Deadline January 6, 2023, 11:59 pm ET
This is one of my 2022 favorites.  It is very special to me since it was from a reference photo I took, and I painted it on my own.   I used all the techniques I learned in classes, tutorials, books, combined with a LOT of practice… and it worked!   Trust me, it doesn't always work, that's why they call it "practice."  🙂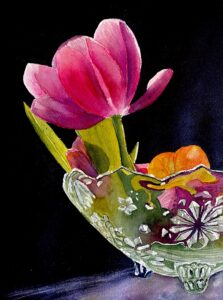 What is the prize?   
Our sponsor this week is Anna Mason Online School.  One random winner will receive a 6 month subscription to her online school!   I've been a member of Anna's online school for almost 2 years.   The tutorials are very detailed, includes outlines, and step by step video instruction.  Her list of tutorials are amazing.  I want to do all of them!
She offers a free Pear tutorial.  Check it out!   Follow her instructions, and it's amazing what you can do!
Anna says, "You don't need 'talent' to do what you see here. You need to practice using a method you can trust. It's quicker and easier than you think." 
Entries must be posted in the Facebook group: Watercolor – Beginners and Beyond
You may enter as often as you want
Open to all countries
Winner is chosen randomly
Include the topic hashtag in your post:

#2022Favorites

Deadline January 6, 2023, 11:59 pm ET (New York time)
Winner announced Sunday, January 8, 2023
If you also post your painting on Instagram, tag @watercolorbeginnersandbeyond.   You could be randomly chosen for a QoR watercolor sample dot card.
This painting challenge is not endorsed, sponsored, or administered by Facebook, Instagram, or Twitter.
Would you like to support Watercolor – Beginners and Beyond?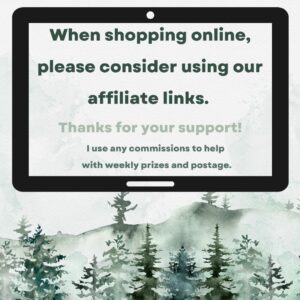 Please consider using these affiliate  links when shopping online.  Thank you!  This helps to pay for prizes and postage to mail the prizes. 🙂
SketchBox (10% off with discount code:  DiannSketchBox)
Jackman's Art Materials (10% off first order using code WBB10)
Paypal link (if you want to contribute directly to help with postage and prizes)
As an Amazon Associate, The Artist Life Affiliate,  Jackson's Art Affiliate, and Jackman's Art Materials Affiliate, I earn from qualifying purchases.
#ad
===
#paintingchallenge   #internationalgiveaway    #weeklypainting  #watercolorchallenge #weeklychallenge #watercolourchallenge #watercolorbeginnersandbeyond