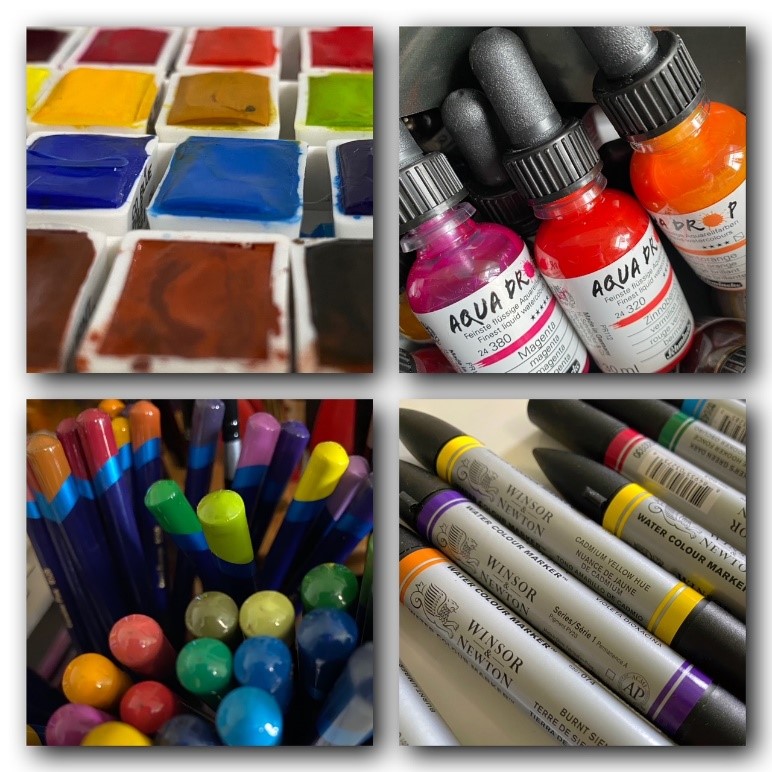 Water Media Art Supplies
Here are some painting examples using the various products:  Water Media Playtime workshop – July 2022 Here are some of the popular items from my Water Media Playtime class, where folks can come and try out all kinds of art goodies! Liquid acrylic, inks, and liquid watercolor:     Watercolor – super granulating:    …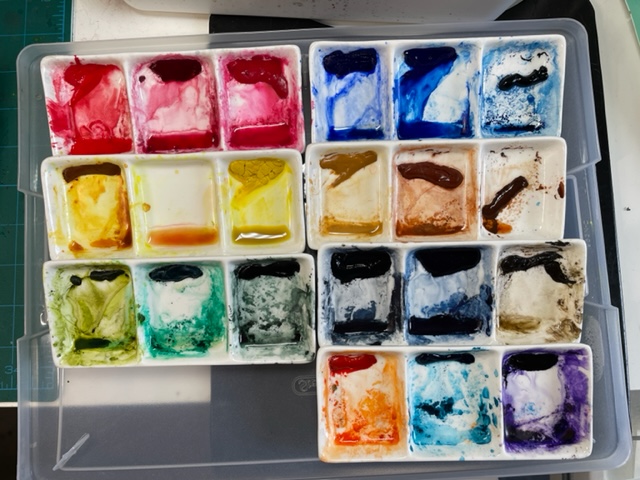 Made my own palette configuration
Why I created my own palette configuration: I like a large well for my paint to make it easier to use a large brush. I like the well to be slanted so I can mix up a bunch of paint and have it easy to sop up with a brush. I like separate mixing areas. …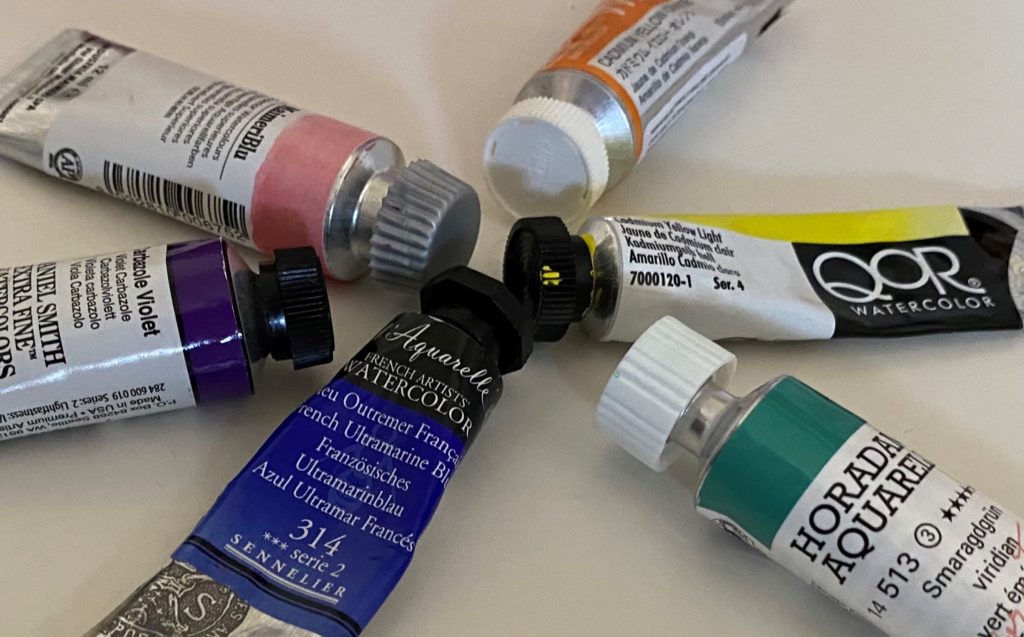 Do you speak the language of color?
Do you speak the language of color?   When you go to the grocery market, do you read the labels for ingredients?   I do.   And it's no surprise that I read the labels on watercolor paints. If you've always wanted to know how to interpret the pigment labels, here is an informative article by Etchr:  The…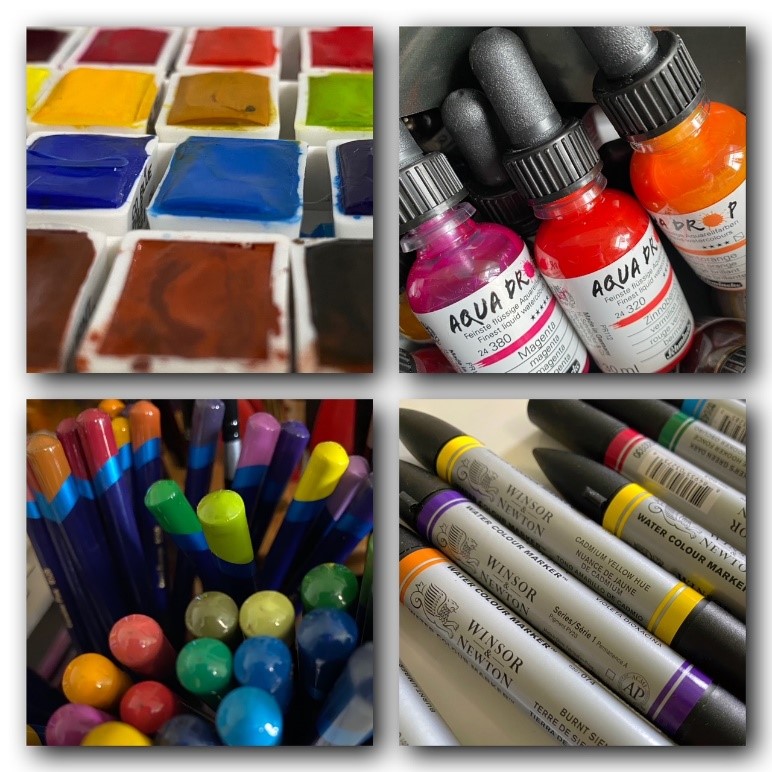 Water Media Playtime class
Water Media Playtime class What do you get when you gather 14 awesome people in a room with all kinds of art supplies?   You get amazing art! Here are some of the items we used in the playtime class: I am an Amazon Associate and Jackson's Art Affiliate, and may earn from qualifying purchases. #ad…
Brusho, Liquid Watercolor and Acrylic Inks
Let's take our creativity for a drive and try some new things:  Pigment crystals, liquid watercolor, and acrylic inks. Our first stop is Brusho.   This is simply concentrated watercolor pigment powder.  Think of it like freeze-dried coffee crystals.  Add water, and it makes magic.  There are two brands I use:  Brusho and Ken Oliver's Color…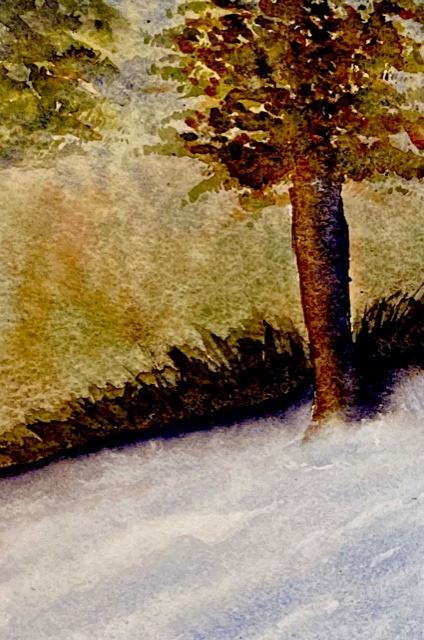 Schmincke Limited Edition Super-Granulating paints
Jackson's has their limited edition super-granulating paints on sale.  Schmincke sale at Jackson's Art Supply I love Schmincke paints, especially the Super-Granulating series:  Tundra, Forest, Galaxy, Deep Sea, and Glacier. Look at this granulation!   So awesome!   All I did was wet the rough cotton paper (Shizen)… dropped in various super-granulating paints, and allowed the…
Highly textured watercolor paper – Khadi and Shizen
I tried out some new paper today:  Khadi watercolor paper, 140 lb. This is handmade paper made in India from 100% long fibered cotton rag.  I admire that they use the run-off water to irrigate an organic Mango farm. It has an interesting surface which creates interesting texture.  And it can handle a lot of…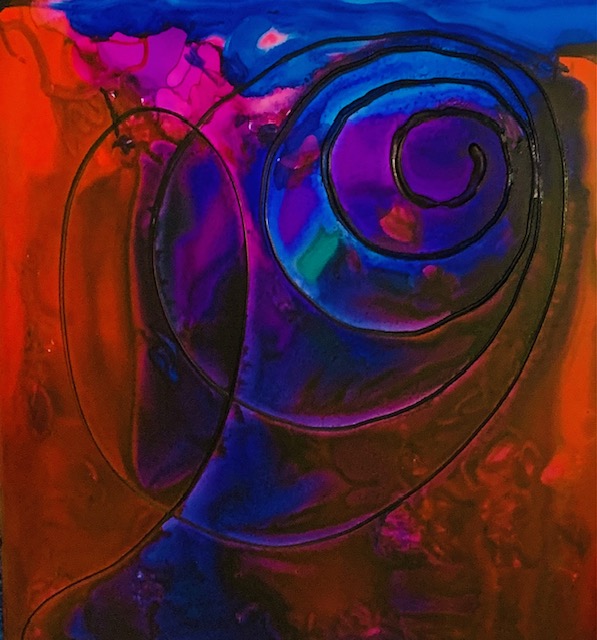 Experimenting with Golden High Flow acrylic paints and Alcohol Inks
I love to experiment with different mediums.   I'm like a curious kid who wants to try everything!  🙂 You can use these Golden High Flow paints many ways.  (and they are on sale!) I like to use the Carbon black for monochrome paintings.   Pour a little paint into a tiny bowl or palette well, then…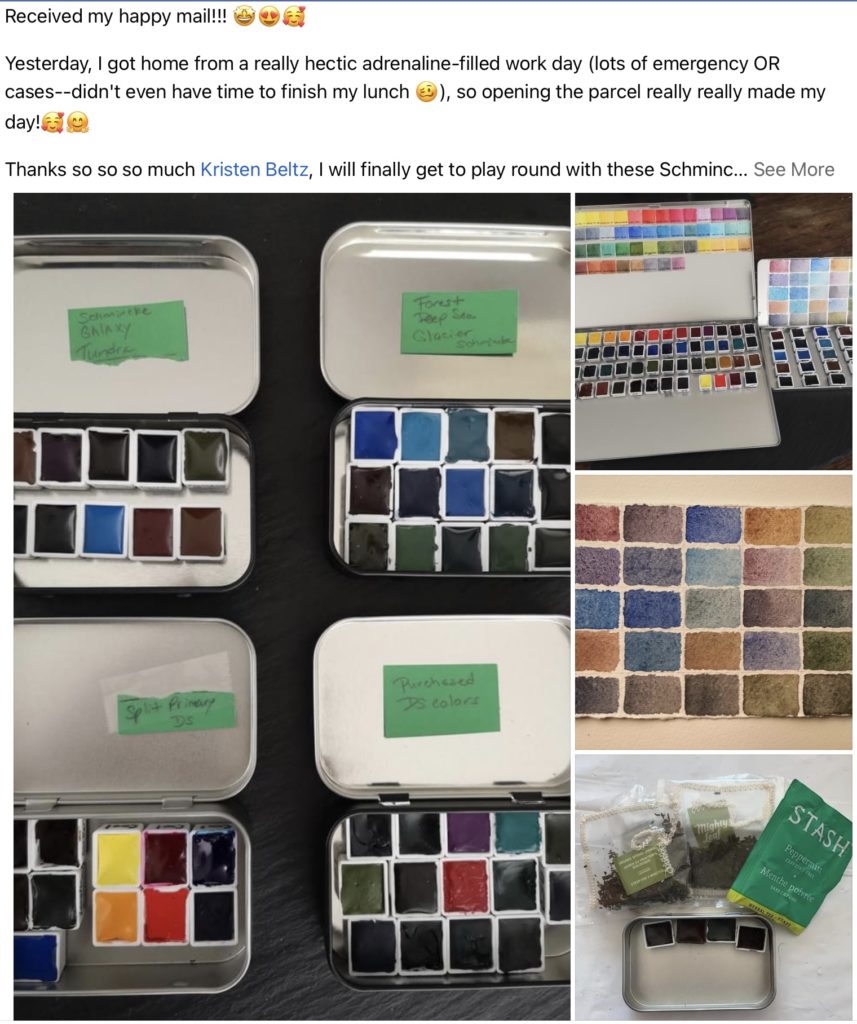 Do you want to trade/sell watercolor supplies?
Today is the one-year anniversary of the group:  Watercolor Supplies Swap/Trade led by Kristen Beltz. If you'd like to buy half-pans of paint, dot-cards, try a different brand, or if you have some you'd like to trade or sell… check out this group.   I've enjoyed getting to know Kristen over the last couple years, and…