Do you speak the language of color?  
When you go to the grocery market, do you read the labels for ingredients?   I do.   And it's no surprise that I read the labels on watercolor paints.
If you've always wanted to know how to interpret the pigment labels, here is an informative article by Etchr:  The Beginners Guide to Watercolour Labels.
And remember… all new customers of Etchr can receive a FREE online mini-workshop.   Use the coupon code:  WBBFREEMW   Check out all the available workshops.  There are so many!
Okay, back to pigment labels.
Why is it important to know a little about pigments?   Well, it's simple.  It could save you money.   For example.   If you have PG7 (phthalo green) and PO49 (quin gold), you can mix those and you'll end up with Sap Green.
When you're following a tutorial or a book and the artist suggests to use a color, look online for the pigment number(s).   Then check your supplies to see if you already have the pigments in another brand.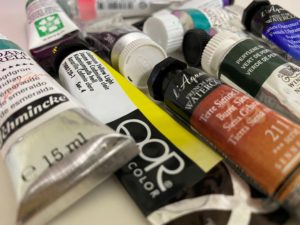 For more info on paints and color:
Paints on a budget – Seven money-saving tips for buying paints
Your watercolor palette – What colors do I need?
What brand of artist grade paint is best?
Artist grade or student grade?
Let's meet some interesting colors
Now get back to painting.  🙂