For this week's challenge, we invite you to immerse yourself in the mesmerizing world of sparkly diamonds and gemstones.
Painting challenge:  Gems 
Include the hashtag #gems in your Watercolor – Beginners and Beyond Facebook group post.
Deadline September 8, 2023, 11:59 pm ET    
Here are the details:
Paint a gemstone:  diamond, sapphire, amethyst, quartz, aquamarine, amber, ruby, emerald, any gemstone!
Entries must be posted in the Facebook group: Watercolor – Beginners and Beyond
Include topic hashtag in your Facebook post: 

#gems 

You may enter as often as you want
Open to all countries
Winner is chosen randomly
Deadline September 8, 2023, 11:59 pm ET (New York time)
Winner announced September 10, 2023
If you also post your painting on Instagram, tag @watercolorbeginnersandbeyond.   You could be randomly chosen for a QoR watercolor sample dot card.
Here is a beautiful Amethyst, painted by Laura Binkley Berg from an Anna Mason tutorial.  So sparkly!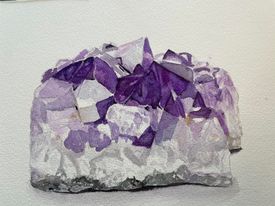 To see progress photos of the Hope Diamond watercolor painting:  https://youtu.be/yzeZnG1WvbQ
What is the prize?   
This week's challenge is sponsored by a member in the group, Cathy PF, who along with her sister Chris, makes lovely sparkly things (jewelry and scarves).  Check out all the beautiful items on her Etsy store:  CampingGypsies.Etsy.com

  For 10% discount, use code "Sister scarf".
One random winner will receive a lovely hand-painted scarf and sparkly earrings.  And I will include a mini palette of sparkly paints!  All things bling! 
Where else can you find Watercolor – Beginners and Beyond?
Would you like to support Watercolor – Beginners and Beyond?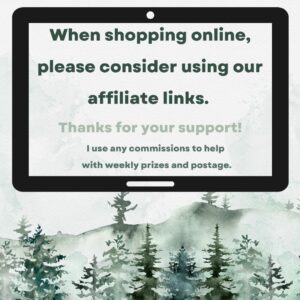 This helps to pay for prizes and postage to mail the prizes. We mail prizes all over the world.
When shopping online, please consider using our affiliate  links.
#ad
===
This painting challenge is not endorsed, sponsored, or administered by Facebook, Instagram, or Twitter.
#paintingchallenge   #internationalgiveaway    #weeklypainting  #watercolorchallenge #weeklychallenge #watercolourchallenge #watercolorbeginnersandbeyond #paintingchallenge #gems #campinggypsies #diamonds