Let's mix it up this week.   Let's do paintings with watercolor — and any other medium!
Paint mixed media.     
Include the topic hashtag in your Watercolor – Beginners and Beyond Facebook group post: #mixedmedia
Deadline August 12, 2022, 11:59 pm ET
Your mixed media could be watercolor and ink (line and wash)…   watercolor and pencil… watercolor and crayon… watercolor and pastels… watercolor and acrylic…  any medium as long as there is watercolor.
This was done with watercolor background.   I mixed several blues, then poured them on the paper, tilted the paper so the excess paint poured off.  Then let it dry.   Then I added the fluid acrylic paint for the trees and leaves.  Lastly, I used a white acrylic pen to outline.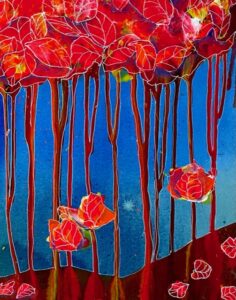 What is the prize?   
Our new sponsor, Archer and Olive (a woman-owned business), has contributed a 6-pan primary watercolor set and a watercolor notebook!    Check out their website:  they have notebooks, planners, pens, watercolor paint.  Everything you need for journaling.
I love their mission:  "To improve mental health through creativity and carve a space for art in the wellness world (even if you don't think you're creative.)"
by Fi Hewkin, Counsellor MBACP (Member of the British Association of counsellors and psychotherapists) — and amazing Moderator of WBB!
"Making art makes us feel good!  Okay we all know that or why would we do it?
Did you know that even just looking at art is good for your health?  Scientific studies have shown that viewing art relieves stress and can reduce symptoms of anxiety and depression.  Researchers in the UK suggest that when we look at art that we consider really beautiful triggers all the same physical responses as when we fall in love.  Now if that isn't a good reason to potter off to a gallery, I don't know what is!
Actually creating art, in any form is even better for us.  The act of creating lowers markers for cortisol (stress hormone) and can raise serotonin levels.  Making art positively impacts brain wave patterns, emotions and can help regulate our nervous system.  The best bit is that it doesn't even have to be great art.  Doodling, colouring in, just messing about with paints all have the same benefits.
All this clever science tells us what we already know.   Art is good for us!
Whether we are looking at it, making it, or enjoying playing with colour, it is all beneficial to our health."
Check out Fi's blog.   Good stuff there!
Entries must be posted in the Facebook group: Watercolor – Beginners and Beyond
You may enter as often as you want
Open to all countries
Winner is chosen randomly
Include the topic hashtag in your post:

#mixedmedia

Deadline August 12, 2022, 11:59 pm ET (New York time)
Winner announced Sunday, August 14, 2022
If you also post your painting on Instagram, tag @watercolorbeginnersandbeyond.   You could be randomly chosen for a QoR watercolor sample dot card.
Do you want to help support Watercolor – Beginners and Beyond? 
I am an Amazon Associate and Jackson's Art Affiliate.  Please consider using these links when shopping online.  Thank you!  This helps to pay for challenge prizes and postage to mail the prizes. 🙂
As an Amazon Associate and Jackson's Art Affiliate, I earn from qualifying purchases.   #ad
Additional resources:
Etchr has generously offered FREE 14 day access to all their online classes and workshops
===
has over 1000 hours of videos, plus many other resources available to subscribers.  For info, click here.
===
For free resources, FREE ebooks, classes, and open source photos
===
#paintingchallenge
#watercolorchallenge
#weeklychallenge
#watercolourchallenge