Graham Berry is our awesome sponsor and has suggested this week's painting challenge.
Paint shadows. 
Include the topic hashtag in your Watercolor – Beginners and Beyond Facebook group post: #shadows
Deadline November 18, 2022, 11:59 pm ET
Shadows give depth and form to your art.  
There are two types of shadows: 
form shadows – the dark side of an object not facing the light, giving the illusion of its form

example:  shadow side of a tree trunk

cast shadows – the shadows that the object itself casts upon another object

example:  the shadow that the tree trunk casts on the ground
Shadows are critical.  These crayons look like they are floating in air until I added the shadows.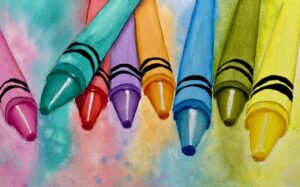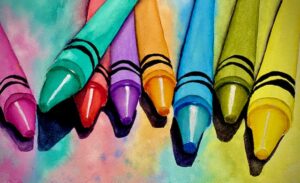 What is the prize?   
The prize for one random winner will be a one-year subscription to Graham Berry's courses: Paint with Graham.  There are over 100 full tutorials available immediately with a new tutorial added every 2 weeks.  His painting style is perfect for both beginner and experienced artists.
If you'd like to try a tutorial for free, sign up here.   I learned so much from this free tutorial about using a limited palette, creating warm light, and to allow the paint to "do its thing" and not fiddle with it too much.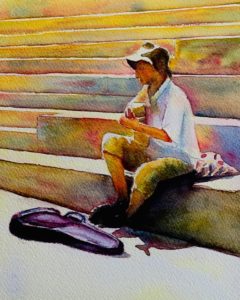 Entries must be posted in the Facebook group: Watercolor – Beginners and Beyond
You may enter as often as you want
Open to all countries
Winner is chosen randomly
Include the topic hashtag in your post:

#Shadows

Deadline November 18, 2022, 11:59 pm ET (New York time)
Winner announced Sunday, November 20, 2022
If you also post your painting on Instagram, tag @watercolorbeginnersandbeyond.   You could be randomly chosen for a QoR watercolor sample dot card.
This painting challenge is not endorsed, sponsored, or administered by Facebook, Instagram, or Twitter.
Do you want to help support Watercolor – Beginners and Beyond? 
Please consider using these affiliate  links when shopping online.  Thank you!  This helps to pay for challenge prizes and postage to mail the prizes. 🙂
As an Amazon Associate, The Artist Life Affiliate,  Jackson's Art Affiliate, and Jackman's Art Materials Affiliate, I earn from qualifying purchases.
#ad
===
#paintingchallenge   #internationalgiveaway    #weeklypainting  #watercolorchallenge #weeklychallenge #watercolourchallenge #watercolorbeginnersandbeyond