The weather is getting better… let's grab our paints and go outside.   And share your world with the group!
Paint an Urban Sketch.     
Include the topic hashtag in your Watercolor – Beginners and Beyond Facebook group post: #UrbanSketch
Deadline May 6, 2022, 11:59 pm ET
What is Urban Sketching?  
Urban Sketching is drawing or painting on location in the cities, towns, or villages that you live in or travel to.
You are an artistic journalist.
What do you see?   Sketch and paint it!   It could be a cafe, grocery market, office building, village, houses or flats across the street, post office, park… It doesn't matter!   The purpose is to capture a moment in time in your unique, artistic way.
Don't strive for perfection.    <– read that again! 🙂
It won't be perfect.  Urban Sketching doesn't require accuracy, it's all about interest.   Don't worry if the perspective is a little wonky, or your lines aren't straight.  It will be more interesting if it's loose and spontaneous.
Don't spend a lot of time drawing the sketch. Be quick.  Be loose.   That will prevent you you from getting bogged down in the details.  Then splash some watercolor on it.   Don't stress about it… just do it!  🙂
If you'd like to see what Ian's tutorials are like, here is a free tutorial:  
English Village Scene   (Ian did this with monochrome water soluble pens, but I decided to add color.)  Ian's teaching style is great.  He's so talented, simplifies each step… and he's fun!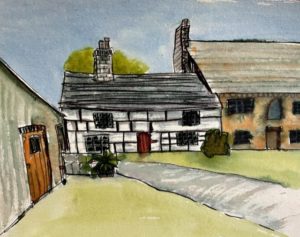 This is the first lesson in the Beginner Course.  Ian does a great job of showing you how to sketch a scene.  I was so excited that I sketched this (without tracing) by following his tips.  It was easier than I thought it was going to be.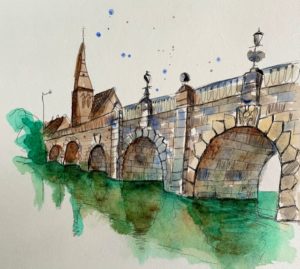 What is the prize?   
Urban Sketch Course is sponsoring our challenge and contributing Ian Fennelly's Beginner's Urban Sketching Course for one random winner.  This course takes you step-by-step from blank page to skilled urban sketcher.  Ian's beginner course includes:
47 Lessons
4 Workshops
10 Technical Exercises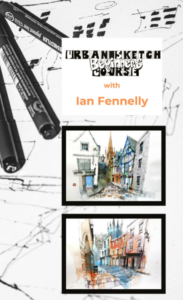 If you're interested in checking out any of the other courses available from Urban Sketch and Ian Fennelly, there are many to choose from:
Entries must be posted in the Facebook group: Watercolor – Beginners and Beyond
You may enter as often as you want
Open to all countries
Winner is chosen randomly
Include the topic hashtag in your post:

#UrbanSketch

Deadline May 6, 2022, 11:59 pm ET (New York time)
Winner announced Sunday, May 8, 2022
If you also post your painting on Instagram, tag @watercolorbeginnersandbeyond.   You could be randomly chosen for a QoR watercolor sample dot card.
Do you want to help support Watercolor – Beginners and Beyond? 
I am an Amazon Associate and Jackson's Art Affiliate.  Please consider using these links when shopping online.  Thank you!  This helps to pay for challenge prizes and postage to mail the prizes. 🙂
As an Amazon Associate and Jackson's Art Affiliate, I earn from qualifying purchases.   #ad
Additional resources:
Etchr has generously offered FREE 14 day access to all their online classes and workshops
===
has over 1000 hours of videos, plus many other resources available to subscribers.  For info, click here.
===
For free resources, FREE ebooks, classes, and open source photos
===
#paintingchallenge
#watercolorchallenge
#weeklychallenge
#watercolourchallenge