One of the simplest ways to improve your art is to do value studies.  By only using one color, you can really focus on shapes and values.
Paint a value study using one color.    
Include the topic hashtag in your Watercolor – Beginners and Beyond Facebook group post: #ValueStudy
Deadline July 1, 2022, 11:59 pm ET
Here is an example of a value study I did.    Painting with only one color is a freeing.    You paint shapes: light, dark, and mid-tones.   No stressing over what colors to use or how to mix to get the shade you want to match.
Shapes and values!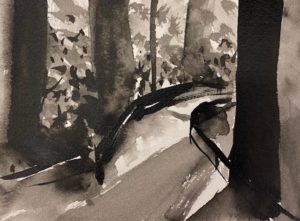 What is the prize?   
Our sponsor this week is Liron Yanconsky.   The prize for one random winner will be lifetime access to his Watercolor Realism course.    Liron says, "painting realistic watercolor is a skill and process."
Also, check out his YouTube channel.   He has watercolor, drawing, and the business of art videos.  He is very generous with the free content he shares!   You can support his generosity on Patreon.
Here are a few of his courses:
He also has fantastic books!   I own several of them, and have learned from each of them.
 #ad
Liron's social media:
Do you want to help support Watercolor – Beginners and Beyond? 
I am an Amazon Associate and Jackson's Art Affiliate.  Please consider using these links when shopping online.  Thank you!  This helps to pay for challenge prizes and postage to mail the prizes. 🙂
As an Amazon Associate and Jackson's Art Affiliate, I earn from qualifying purchases.   #ad
Additional resources:
Etchr has generously offered FREE 14 day access to all their online classes and workshops
===
has over 1000 hours of videos, plus many other resources available to subscribers.  For info, click here.
===
For free resources, FREE ebooks, classes, and open source photos
===
#paintingchallenge
#watercolorchallenge
#weeklychallenge
#watercolourchallenge