Another 2-year celebration giveaway for one random winner:
5 ml tube of YInMn Blue (made by QoR Watercolor)
Why is this so special?
Thought you'd never ask…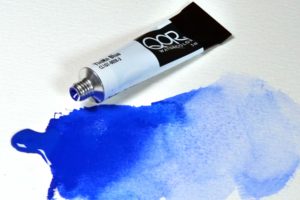 .
.
It is the first new inorganic blue in over 200 years!   
This color was created in the Oregon State University lab by Dr. Mas Subramanian and his team.
Since this is such a new color, supply is limited, so getting a tube is like getting a first edition of a book!  It is exciting!
It is about 6 times more expensive than Cobalt because one of its components, Indium, is a rare earth element.
How do you enter?
make a comment to Diann's post in our Facebook group, and share your favorite blue.  (my favorite blue is Manganese blue in case you were wondering. lol)
Winner will be chosen randomly and announced around 6 p.m. ET, September 29, 2021.
---
On a different topic… If you'd like to take a look at some book recommendations with step-by-step instructions… see Painting guides.