I love to experiment with different mediums.   I'm like a curious kid who wants to try everything!  🙂
You can use these Golden High Flow paints many ways.  (and they are on sale!)
I like to use the Carbon black for monochrome paintings.   Pour a little paint into a tiny bowl or palette well, then paint directly with it.
Here is a painting I've done using Carbon black on Arches 140 lb paper.  The layers dry quickly (much faster than watercolor.)  I used dry brush technique for the sides of the mountain and in the waterfall.  No white paint was used with this.  The entire painting was done in about 15 minutes, including drying time between layers.   This painting is Multnomah Falls in Oregon.  It's such a beautiful place.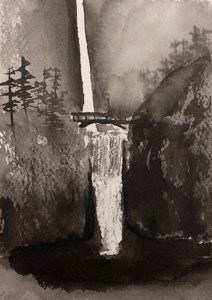 Another way to use High Flow paints…   You can squeeze some of the high flow acrylic into a fineline applicator and use it like a pen, to draw lines, make squiggles — or even sign your paintings.   You can use a damp brush to spread the paint.
Once it's dry, it's dry.  It won't reactivate when wet.  The applicator draws such a smooth line.
I did the black circular lines with Carbon black using the applicator.   When it was dry, I dropped in alcohol ink and allowed it do its magic on Yupo paper.
You could also do this with watercolor on watercolor paper.  Do the ink first, let it dry, wet the paper, then drop in colors and let them blend however they want.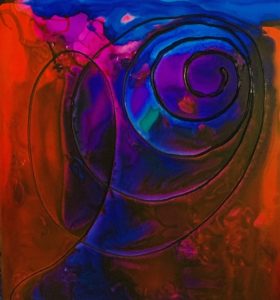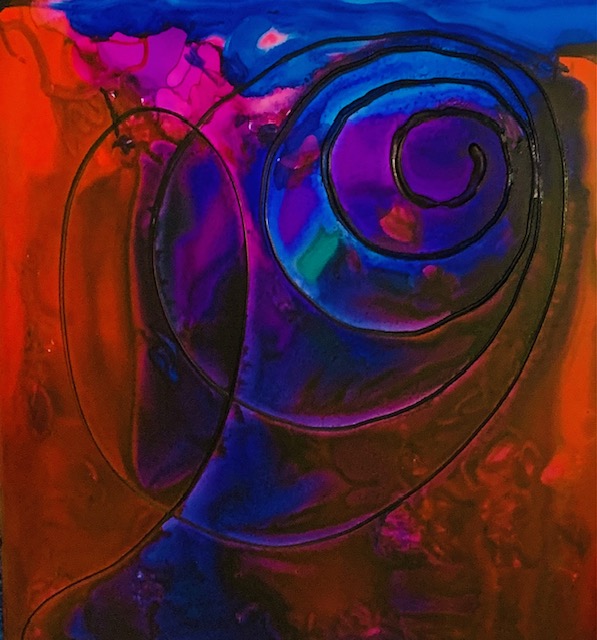 Yupo paper tends to be expensive, however it's on sale.
You can also use the non-shiny side of photo paper.  It works good with alcohol inks and costs less.

#ad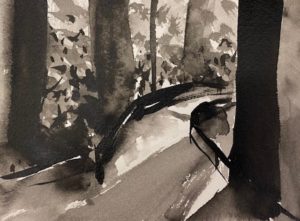 Here's another monochrome painting I did with Golden High Flow acrylic.
This painting took about 15-20 minutes to do.  I really love doing monochrome paintings.  I just focus on values and don't worry about color.
#highflowpaint #alcoholink #yupopaper #mixedmedia
As an Amazon Associate I earn from qualifying purchases.