Save money!  Make your own watercolor sketchbooks! 
I took four 10 inch x 14 inch Arches pads to my local FedEx Office store.   Within an hour, they turned those 4 pads into watercolor sketchbooks:  four 7 x 10 inch and eight 4-1/2 x 6 inch!  They turned out great, and so much cheaper than buying a watercolor sketchbook.  And the paper is ARCHES!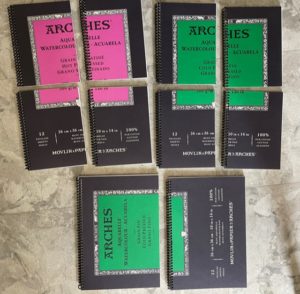 I bought the pads on sale for $12 each (it was an amazing sale a few months ago from Michaels) and paid $40 to have the books bound.  I ended up with 12 sketchbooks.
$48    Cost of paper
$40    Binding cost
$88 total for 12 sketchbooks = $7.33 per sketchbook (and 4 of them are 7 x 10 inch!)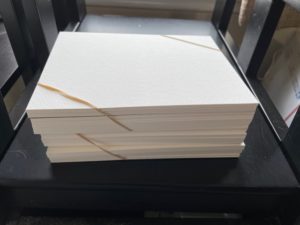 They also cut a huge stack of 11 x 15 inch Fabriano 25% cotton paper that I bought from Jackson's when it was on sale.  My stack of 100 large sheets is now 400 5 x 7 inch sheets!  This is such a convenient size to paint.
Most office supply stores have binding services.  Check it out to see if you can save some money making your own sketchbooks!
Please consider using these links when shopping online.  I am an Amazon Associate and Jackson's Art Affiliate and I may earn from qualifying purchases.  This helps to pay for the weekly challenge prizes and postage to mail the prizes. 🙂