Many of us started our watercolor journey with Sarah Cray and Let's Make Art.   This week's challenge is to paint any of the LMA tutorials.
Paint a Let's Make Art tutorial!     
Include the topic hashtag in your Watercolor – Beginners and Beyond Facebook group post: #LMA
Deadline July 22, 2022, 11:59 pm ET
There are many from which to choose.   You may go to YouTube to see all the tutorials and the outlines are available free on their website.  If you haven't visited their site in a while, they now have
Art Journaling
,
Kids Watercolor
, and
Acrylic
.   And of course lots for
watercolor
!
Here are a few I've done at the beginning of my art journey. I did these when I had only been painting a couple months.  I was so excited to accomplish these results!  Her tutorials are easy to follow.  She's so encouraging each step of the way.  I hope to meet her someday.
If you click on the photo, it will take you to the LMA YouTube tutorial.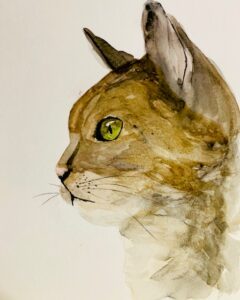 What is the prize?   
Let's Make Art will award one random winner the July watercolor box.  This box was created for the travelers at heart, those who are ready to explore the world while also exploring their creativity.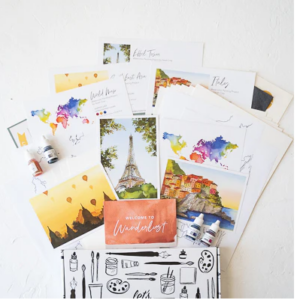 Projects in this box:
Eiffel Tower
South East Asia inspired
Italy
World Map
WHAT'S INSIDE THE BOX
Dandelion Paint Co. Watercolor Paint: Black, Deep Blue, Deep Yellow, Magenta
Watercolor paper (enough to do each project twice)
Graphite Paper and outlines
Step-by-step instruction cards
Reference Photos
Let's Make Art Matter Postcard
Bonus item: (2) 6×9 Bamboo/Cotton Blend paper & (2) 6×9 100% Cotton "The Collection" Premium Hahnamuhle Paper
Paint is Made in the USA ~ Non Toxic and Conforms to ASTM D-4236
I admire LMA's vision:  "We want to give you a space to grow creatively. The simple act of taking time to create something with your own hands will have a positive impact on your life. If you are able to let go of the expectation that every attempt should be perfect, then you'll be able to make room for what really matters when it comes to art: Mindfulness, Learning, Community, and Having Fun! Give yourself permission to make 'mistakes.' Give yourself permission to take an hour just for you. Give yourself permission to play. Let's make some art."
If you missed the World Watercolor Month challenge, check it out.  It is throughout the month of July!  Lots of awesome prizes from our sponsors!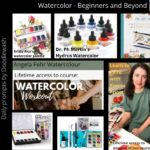 Entries must be posted in the Facebook group: Watercolor – Beginners and Beyond
You may enter as often as you want
Open to all countries
Winner is chosen randomly
Include the topic hashtag in your post:

#LMA

Deadline July 22, 2022, 11:59 pm ET (New York time)
Winner announced Sunday, July 24, 2022
If you also post your painting on Instagram, tag @watercolorbeginnersandbeyond.   You could be randomly chosen for a QoR watercolor sample dot card.
Do you want to help support Watercolor – Beginners and Beyond? 
I am an Amazon Associate and Jackson's Art Affiliate.  Please consider using these links when shopping online.  Thank you!  This helps to pay for challenge prizes and postage to mail the prizes. 🙂
As an Amazon Associate and Jackson's Art Affiliate, I earn from qualifying purchases.   #ad
Additional resources:
Etchr has generously offered FREE 14 day access to all their online classes and workshops
===
has over 1000 hours of videos, plus many other resources available to subscribers.  For info, click here.
===
For free resources, FREE ebooks, classes, and open source photos
===
#paintingchallenge
#watercolorchallenge
#weeklychallenge
#watercolourchallenge