Since it is WORLD WATERCOLOR MONTH… for this week's challenge, let's travel all over the world and see everyone's favorite vacation destination.
Paint your favorite vacation place.     
Include the topic hashtag in your Watercolor – Beginners and Beyond Facebook group post: #vacation
Deadline July 8, 2022, 11:59 pm ET
Maybe it's a place you've never visited, but it's on your dream vacation list.   Just paint wherever you'd like to go on vacation.
I have always wanted to visit Italy.  Some day, I hope to go.   And I'll get to meet Anna Di Muro!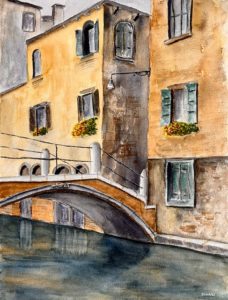 If you would like to take a virtual vacation and get some amazing photos to paint, try HeyGo…  You can attend a virtual live tour in places all over the world.   It is free to join, tours are supported by voluntary tips.  Here is information: 
Travel the world virtually
What is the prize?   
One of our first challenge sponsors, Insparea, has previously provided several of their kits for challenge prizes.  This week's prize is a Watercolor Trip to Spain!   Includes pre-printed outlines, step-by-step instructions, and everything you need to paint 35 paintings!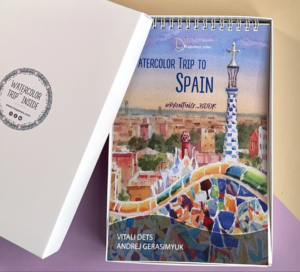 Made in Ukraine.
Watercolor Kit includes:
– Artbook tutorial "Watercolor trip to Spain" (size 15×23 cm) 50 pages (35 DIY paintings in the book) from world's best Master. Made of watercolor paper Fabriano
– Professional watercolors from Van Gogh Royal Talens on the palette. Quantity is enough to finish 2 books
– Special watercolor palette, where brush strokes stay the same without making a drop
– Extra box with 12 professional watercolor paints from Van Gogh Royal Talens
– 2 Round Watercolor Brushes: small and average size (Squirrel or Synthetic)
– 1 Round synthetic brush for applying masking rubber. Size – very small
– Masking fluid (7 ml) for watercolor in a special bottle
– Wax for making watercolor effects
– blank watercolor bookmarks
– 17 photos of the landscapes in the envelope
– Free consultation directly with authors of the book (through QR code). You can ask the author anytime by sending your painting to his email
There are several Watercolor Trips from Insparea.  I have the Italy and France, and love them!
If you missed the World Watercolor Month challenge, check it out.  It is throughout the month of July!  Lots of awesome prizes from our sponsors!
Entries must be posted in the Facebook group: Watercolor – Beginners and Beyond
You may enter as often as you want
Open to all countries
Winner is chosen randomly
Include the topic hashtag in your post:

#vacation

Deadline July 8, 2022, 11:59 pm ET (New York time)
Winner announced Sunday, July 10, 2022
If you also post your painting on Instagram, tag @watercolorbeginnersandbeyond.   You could be randomly chosen for a QoR watercolor sample dot card.
Do you want to help support Watercolor – Beginners and Beyond? 
I am an Amazon Associate and Jackson's Art Affiliate.  Please consider using these links when shopping online.  Thank you!  This helps to pay for challenge prizes and postage to mail the prizes. 🙂
As an Amazon Associate and Jackson's Art Affiliate, I earn from qualifying purchases.   #ad
Additional resources:
Etchr has generously offered FREE 14 day access to all their online classes and workshops
===
has over 1000 hours of videos, plus many other resources available to subscribers.  For info, click here.
===
For free resources, FREE ebooks, classes, and open source photos
===
#paintingchallenge
#watercolorchallenge
#weeklychallenge
#watercolourchallenge