Painting leaves and water droplets.
Here's a one-hour tutorial on painting simple leaves.  I was joined by two inspiring artists, Ksenia Annis and Lenard Lai.
I started with a simple leaf… added a water droplet… then moved on to Ksenia Annis painting a gorgeous maple leaf… and finished up with a Monstera leaf by Lenard Lai.     I didn't go into too much detail on how to do the water droplets, so I listed instructions and photos below.
Thanks to @Learn to paint with Ksenia Annis and @Drawplet (Lenard Lai) for being our guest artists for this fun demo.      
Here are step-by-step instructions for water droplets.   I went too fast in the video (sorry!)
Make a circle using the same color as the background (make sure the background is completely DRY!)
Immediately while the circle of paint is wet, take a damp brush and encourage the paint to fill the circle.  Dab the center with paper towel or dry brush to lift up a little paint.  LET IT DRY.  Sorry to scream.  It's really important.  🙂
Paint around the perimeter of the bottom half of the circle.  Use damp brush to soften the edge.  LET IT DRY.  Oops… screamed again.  🙂
Take a blade and nick a little spot out of the top and bottom of the droplet to reveal white highlight.   Or you could use white gel pen, acrylic pen, or white gouache.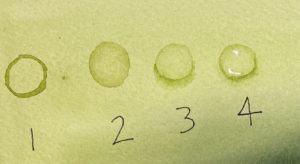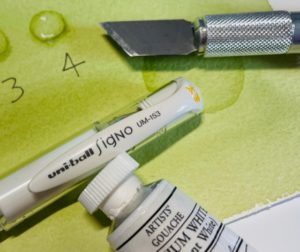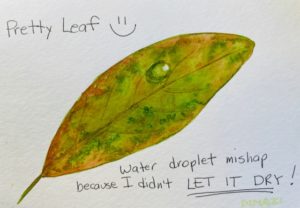 When you finish, get up and look at it from across the room.   If you look at it right in front of you, you'll likely only be looking at the droplet.   It will look better from across the room. You'll look at the leaf as a whole and the droplet will read like a drop of water.   (Sometimes my paintings look better from across the street!)
This takes practice..  I still haven't mastered it.  I get one good droplet out of 5 attempts.   But I'm getting better, it used to be 1 out of 20!  Focus on progress, not perfection.
Take some of your practice paintings, and add water droplets to them.
Practice, and have fun.  Isn't that why we paint?  🙂
I am an Amazon Associate and Jackson's Art Affiliate.  Please consider using these links when shopping online.  Thank you!  This helps to pay for challenge prizes and postage to mail the prizes. 🙂
As an Amazon Associate and Jackson's Art Affiliate, I earn from qualifying purchases.   #ad
#waterdroplet #leavestutorial