It was a fun ABSTRACT MIXED MEDIA class today!  Thanks to all who joined and painted along with me.
In this tutorial, I used CaranD'Ache Fancolor watercolor set, Ebony pencil, Kuretake Ink pen, Schmincke Acrylic ink, Dr. Ph Hydrus watercolor and acrylic ink, Color Burst powder, SketchBox Pigment powder, QoR watercolor.
Here is the collection of abstract art I did in the 55 minute class.   
So bright and colorful!   I love happy art!  🙂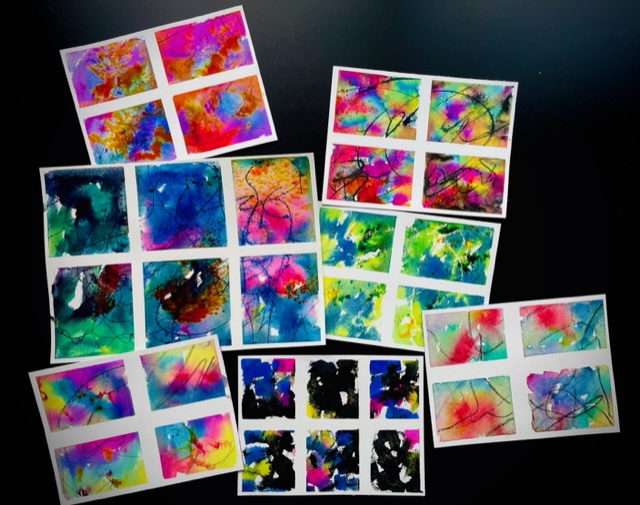 Here is the tutorial replay:
Here are all the paintings I created during the class:  
Here are some art products I recommend, but use whatever you have. 
Children's crayons are perfectly fine for mixed media!  Give it a try.  🙂   Slap some paint on paper and create abstract art!  Don't stress about it, just paint!
Liquid acrylic, inks, and liquid watercolor:
Watercolor – metallic and iridescent:
Watercolor pens, water soluble markers and pens:
Watercolor pencils/crayons, oil pastels, water soluble graphite:
Pigment crystals (fireworks on paper!)
My favorite papers:
Here is a link to my storefront on Amazon.  It includes lists (paint, paper, brushes, pens, etc.) of my favorite items.  
Amazon: Watercolor – Beginners and Beyond (some of my favorite art goodies)
There are also many of these items at Jackson's Art Supply in the UK.  They have a lot of Schmincke paints, plus many items not found in the U.S.  I love Jackson's!  
#ad
As an Amazon Associate and Jackson's Art Supply Affiliate, I may earn from qualifying purchases.   I use any commissions to help with the weekly challenge prizes and postage.   Thank you for your support! 🙂
Here are links to resources you may find helpful: