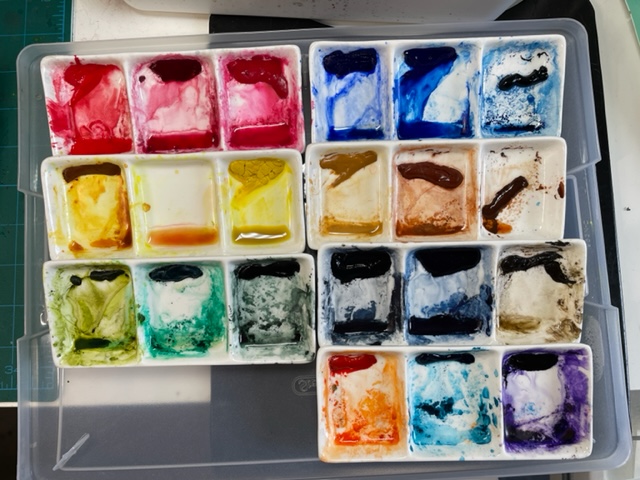 Made my own palette configuration
Why I created my own palette configuration: I like a large well for my paint to make it easier to use a large brush. I like the well to be slanted so I can mix up a bunch of paint and have it easy to sop up with a brush. I like separate mixing areas. …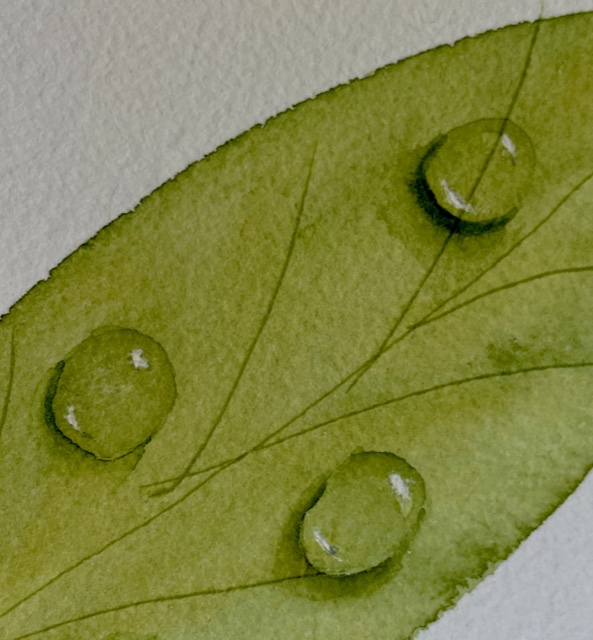 Painting leaves and water droplets
Painting leaves and water droplets. Here's a one-hour tutorial on painting simple leaves.  I was joined by two inspiring artists, Ksenia Annis and Lenard Lai. I started with a simple leaf… added a water droplet… then moved on to Ksenia Annis painting a gorgeous maple leaf… and finished up with a Monstera leaf by Lenard…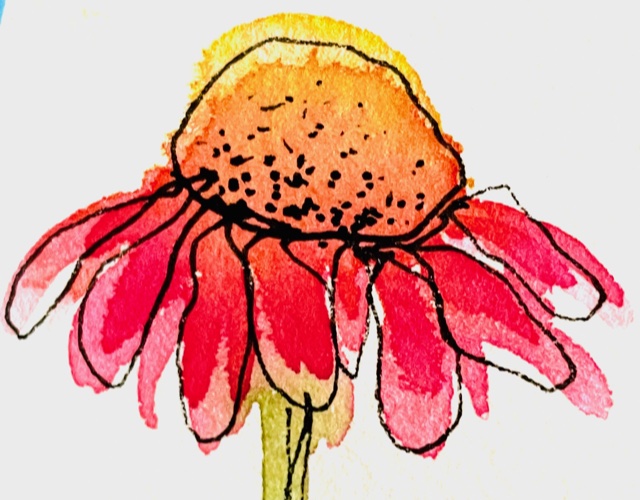 Watercolor postcards for beginners!
Learn to paint simple and HAPPY postcards!  If you can write the letter "U", draw a simple boomerang, and scribble a "blob", you can paint these happy postcards! We had an online zoom class today with some members of the Facebook group.  It was great to meet them!  It's fun to paint with others. …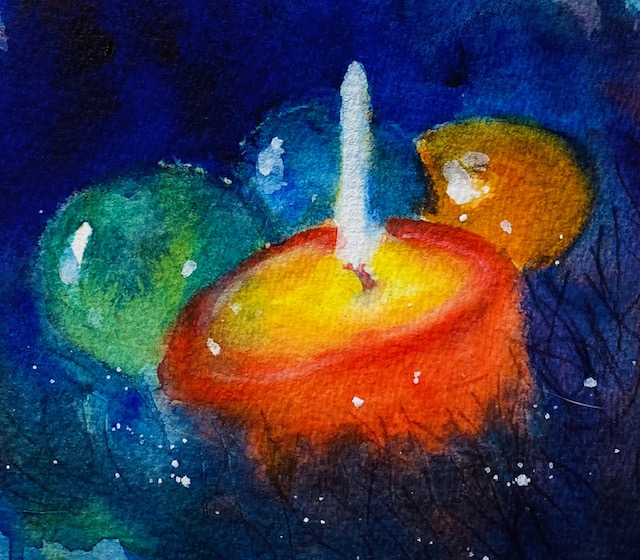 Holiday Card tutorials
As we are approaching the holidays, I gathered some Holiday card ideas — all free videos. One of my favorites is this candle by Ksenia Annis.   She has offered to do a free Facebook Live on how to turn this candle into a holiday card.  Stay tuned for the event announcement on Facebook.   Check out Ksenia's…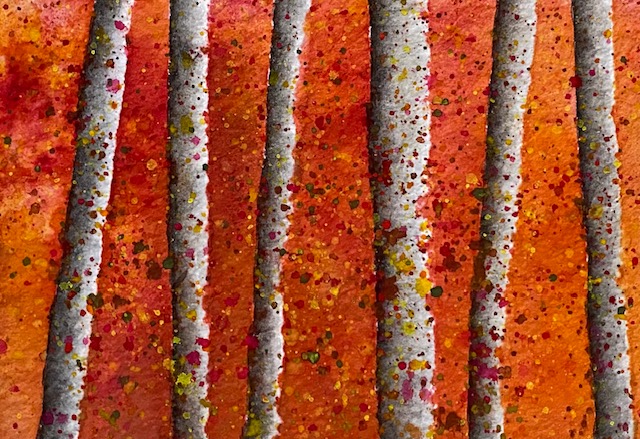 Easy watercolor autumn tree landscape
This is a simple project.   Trust me.  🙂 Watercolor paint: yellows and reds (whatever you have) ultramarine blue burnt sienna Don't worry about what brand of paint you have.  Student grade, artist grade, doesn't matter.   Just paint.  🙂 Two minute video! See, I told you this was a simple project! I did this on two…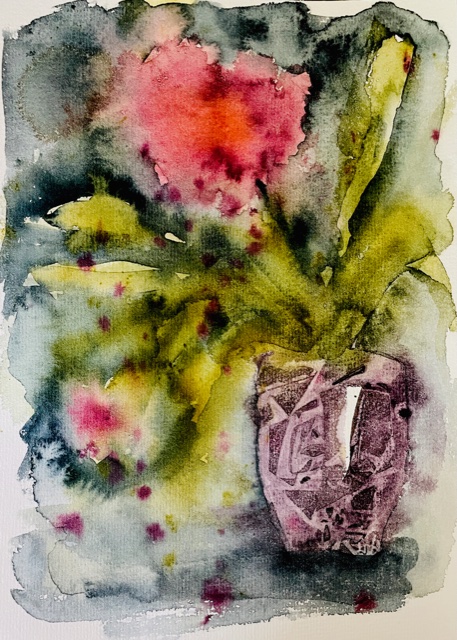 Using cellophane for texture
I had fun with this loose painting.   I wet the entire 12 x 9 inch paper, then dropped in color for the flowers and leaves. I let it dry a little before painting in the vase.  Then I wadded up some saran wrap (cellophane) and placed it over the vase and set a container of…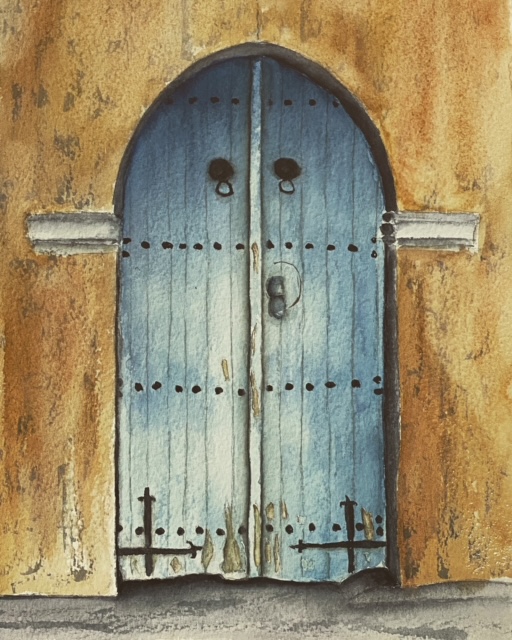 Step-by-Step Door Painting
I love doors.   And I love blue.   So we're going to paint a BLUE DOOR. I found this photo on Unsplash (photo site for artists to use without worrying about copyright issues.) Colors and substitutions: Cerulean blue (or manganese blue) Ultramarine blue (or cobalt blue) Sepia (or burnt umber or neutral tint) Raw sienna (or…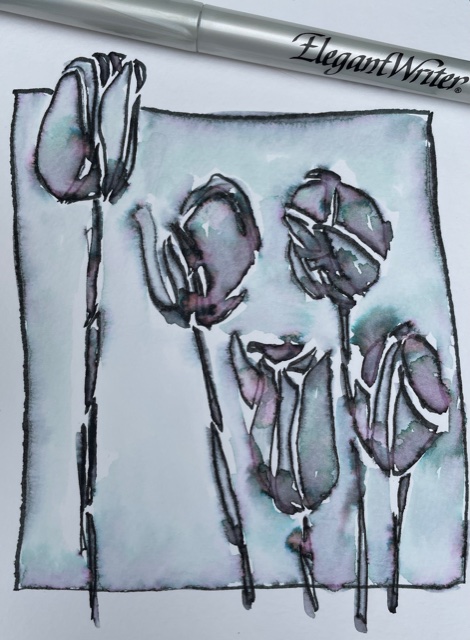 How to use the Elegant Writer calligraphy pen
This pen is so much fun to use!   And simple. Sketch an outline.   Use damp brush to smear the ink.   Dab with tissue to lift some color and it will leave a pinkish hue. And that's it.   See, I told you it was simple to use. Here is a simple sketch I did .   Watch…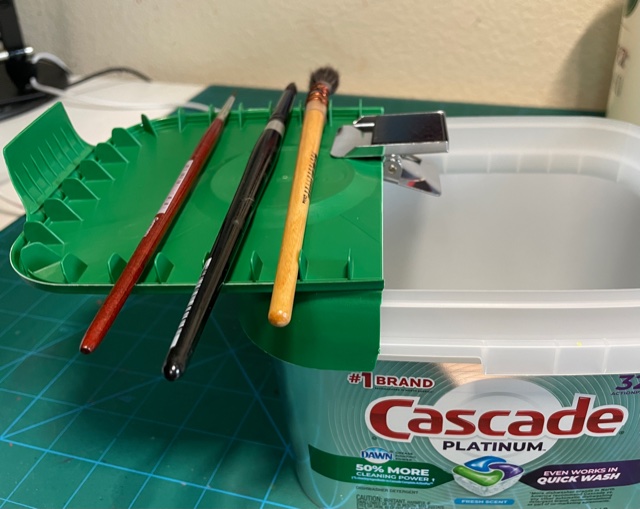 Quick tip – water container and brush holder!
The Cascade dishwasher detergent container is the perfect water container. The lid has ridges on it.  When you clip the lid open, your brushes can rest on the lid and not roll around. AND… if you have a sneaky cat who likes to drink your rinse water, you can close the lid when you walk…